The Green Lake Park inKunming City is a very popular park among local residents. Since 1985, the seagulls from Siberia have been spending the winter months on Green Lake. The spectacular scenery of flocks of birds repeats year after year.

Overview
The Green Lake Park, situated at the western foot of Wuhua Hill, is a scenically beautiful park facing directly the main gate of Yunnan University. By the end of the Yuan Dynasty (1206–1368), it was still a swampy field for growing vegetables, lotuses and rice, hence the name "Vegetable Lake". The water-level of Dianchi Lake was so high that it was connected with the Green Lake. As there were nine mouths of springs beyond the Bamboo Island in the northeast, the lake was also called "Jiulong Chi" (literally means nine dragon pond).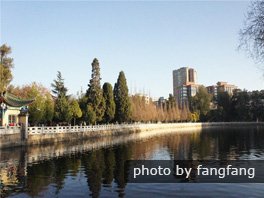 The Green Lake Park serves as a pure land for quieting one's soul. Its banks are covered with an abundance of willow trees and dotted with a variety of vibrant lotuses. This contrast between the pale green of the willows and the array of colors in the lotuses makes the park a popular destination for nature lovers. One can almost feel the freshness from the air. The serenity and beauty make it an excellent place for a picnic, a morning stroll, or a simple a time to sit and reflect. This lush world is hence extolled as a "Kunming's Jade".